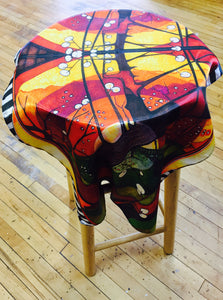 Satin Scarf Circles
DID YOU KNOW YOU CAN HAVE ANY OF OUR PIECES PRINTED AS A SCARF?
if there is a piece you would like to have a scarf please contact us and we can arrange to have it added to our production line.
Scarves Care Instructions:
Dry clean only. We do not recommend dry cleaning with the solvent perchloroethylene, which is commonly known as "perc". We suggest using GreenEarth/Organic Cleaning facilities.  All scarves have been made, printed and hemmed in the USA.  They have been pressed at an Organic facility to ensure the highest quality possible.  Enjoy!